Starting your own blog or website may not come off as a surprise to you any longer and perhaps, the hype got to you as well. And why wouldn't it? After all, internet has upped its ante through the numerous opportunities given to people.
To start off your WordPress career with a major blow of success, you'll need to know one of the secrets which is; an amazing theme. To get more visitors and traffic into your website, you will have to surf the internet to find the best theme out there – that is both, innovative and appealing to the audience.
Though it sounds fun, choosing the best one amongst a whole chunk of great themes can truly be a hefty task.
Before jumping into the specifics, lets first address why you should start blogging?
Express yourself or your passion
Through a blog, you'll be able to write and communicate to the world about your favorite niches or personal experiences, such as, food or fashion.
Improve writing skills
By constantly writing about various niches, you'll be able to improve your way of expressing yourself and academic writing.
Make money
You can monetize your blog; either by use of adverts on the blog or by increasing the number of visitors on your site.
Build a network and make your business grow
Gradually, you'll be able to have great fan following and contacts with professionals as well. Through this, you can further create partnerships or expand your portfolio further to benefit.
Notably, the most popular WordPress themes come with a high-price tag – which many people don't have on cards, unless of course, your blog makes an efficient amount of money to be utilized for that. The good news is there are free as well as paid themes.
We have compiled a list of themes which include both, free and paid themes to make this lengthy task, easier for you.
1. Readable – Blog Template Focused on Readability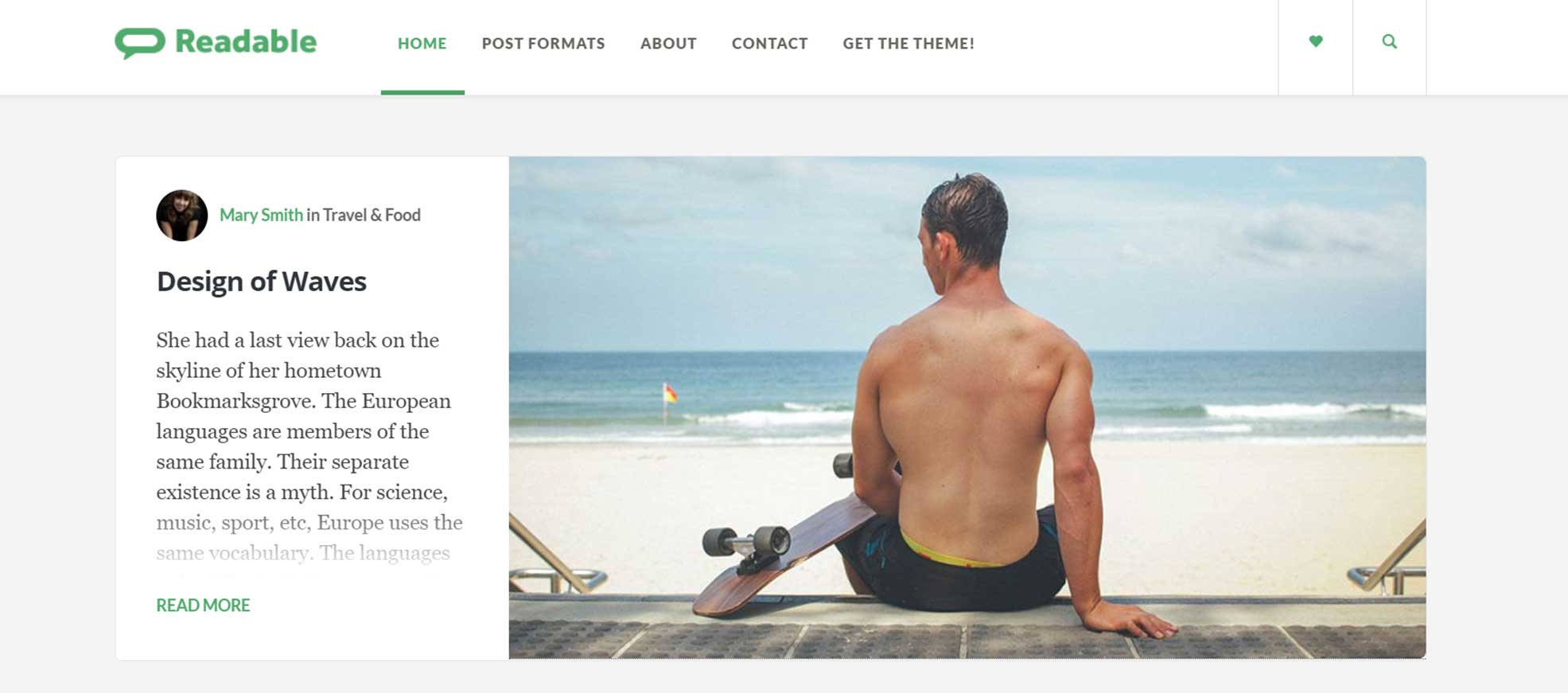 Hands down, the first one to be in our list, is Readable. The name of the theme itself is self-explanatory – as this theme is made to provide you with the best reading experience. From tweaking the font size, hierarchy, word per line to contrast and colors, Readable is sure you give your website an appealing look.
It has a sleek and modern design which is ideal for bloggers who can use this theme to write about many niches such as, travel, fashion, etc. The grid designs are presented in a way that your text is the primary focus and the rest is secondary.
Main Features:
Mobile responsive
Very fast and lightweight
Translation-ready (Multilingual plugin)
SEO code
Numerous color choices
Extensive support and documentation
Click to Download
Live Preview
99
Wordpress Hosting
2. Divi – Build Visually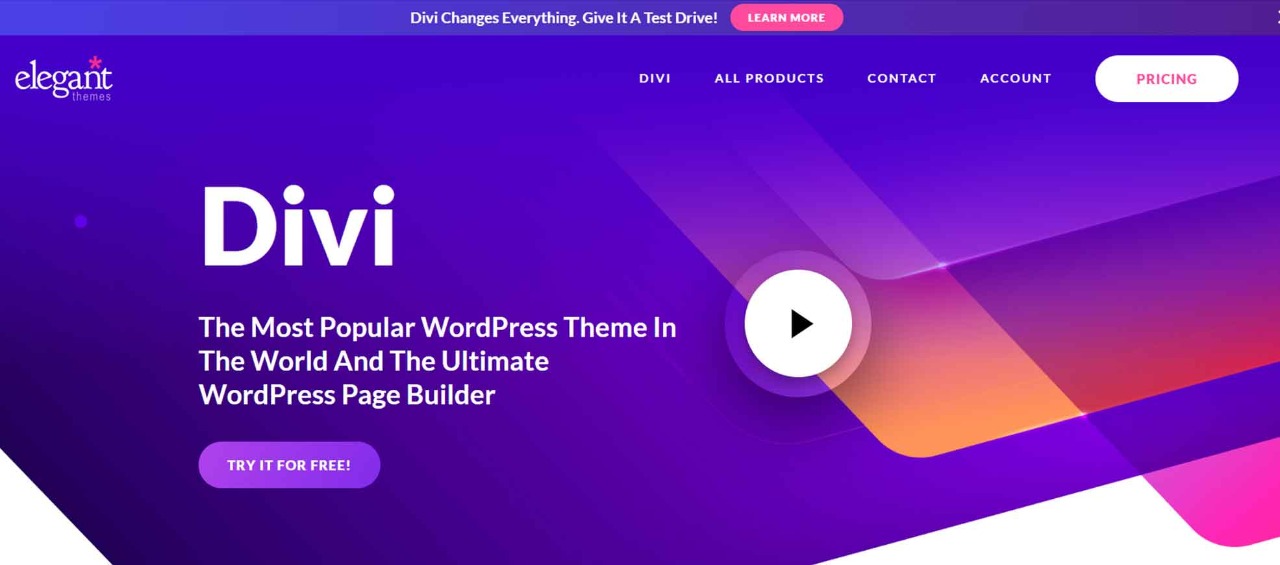 This is a highly diverse option, applicable and usable to/for all, including freelancers, agencies and website owners. Divi has a module for everything ranging from blogs to forms and galleries.
Moreover, it allows you to have full control over the design, so you are the boss here. There's no hassle of finding the text as everything is straightforward which is a characteristic appreciated by the visitors.
Main Features:
Mobile responsive
Unlimited customization options
The interface is minimalistic yet modern
There are advertisement areas
Drag and drop options
Has over 800 pre-made layouts for websites
Click to Download
Live Preview
Wordpress Hosting
3. Astra – Free WordPress Blog Theme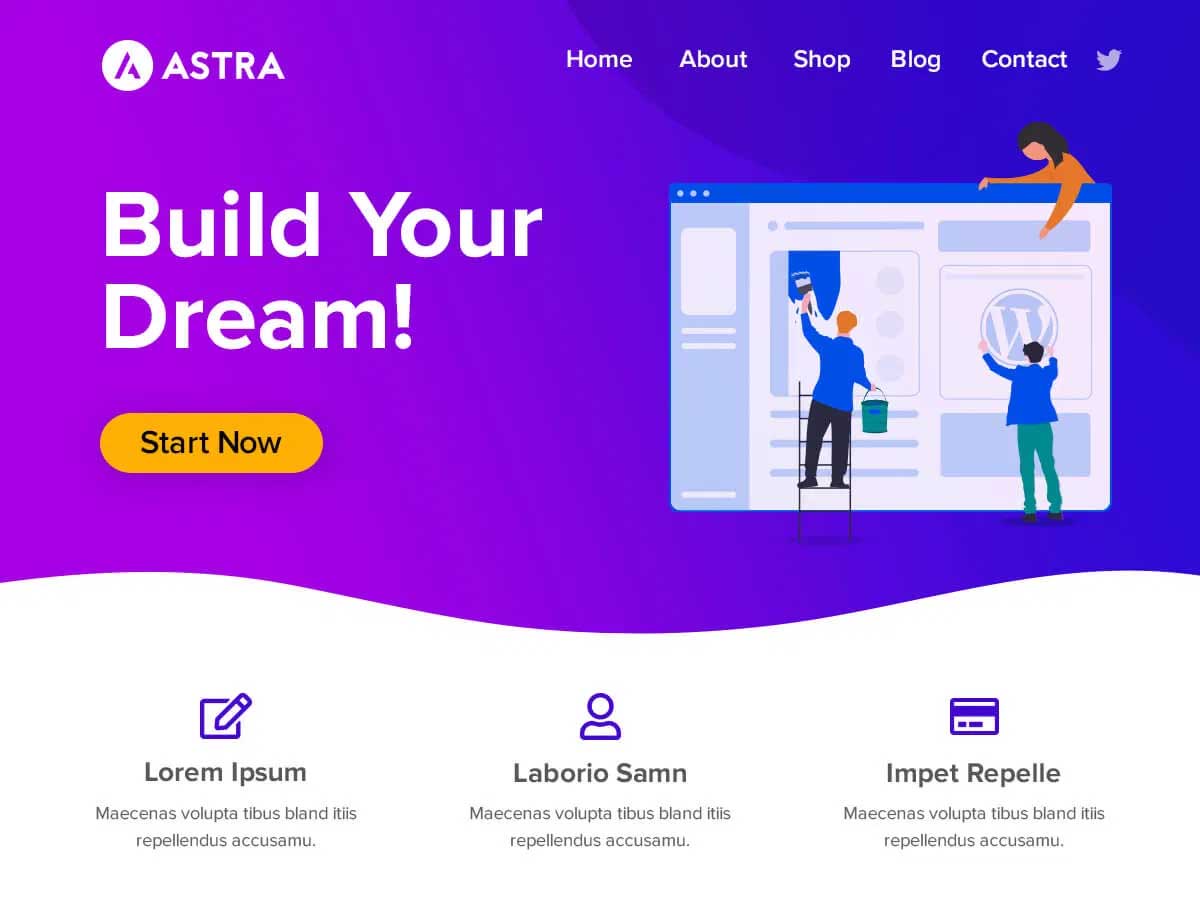 If you're on a hunt for the perfect base theme, then look no further as Astra would be the most appropriate theme for you. It is a fast and customizable theme that is suited to many sorts of individuals including, bloggers or even businessmen.
Notably, this theme can also be used for online stores website. Astra incorporates many plugins; page builders and supports various languages.
Main Features:
Extremely lightweight
Translation-ready
Attractive theme
Unparalleled speed
WooCommerce ready
SEO code
Completely free
Click to Download
Live Preview
Wordpress Hosting
4. Personal – Best Blog, CV and Video WordPress Theme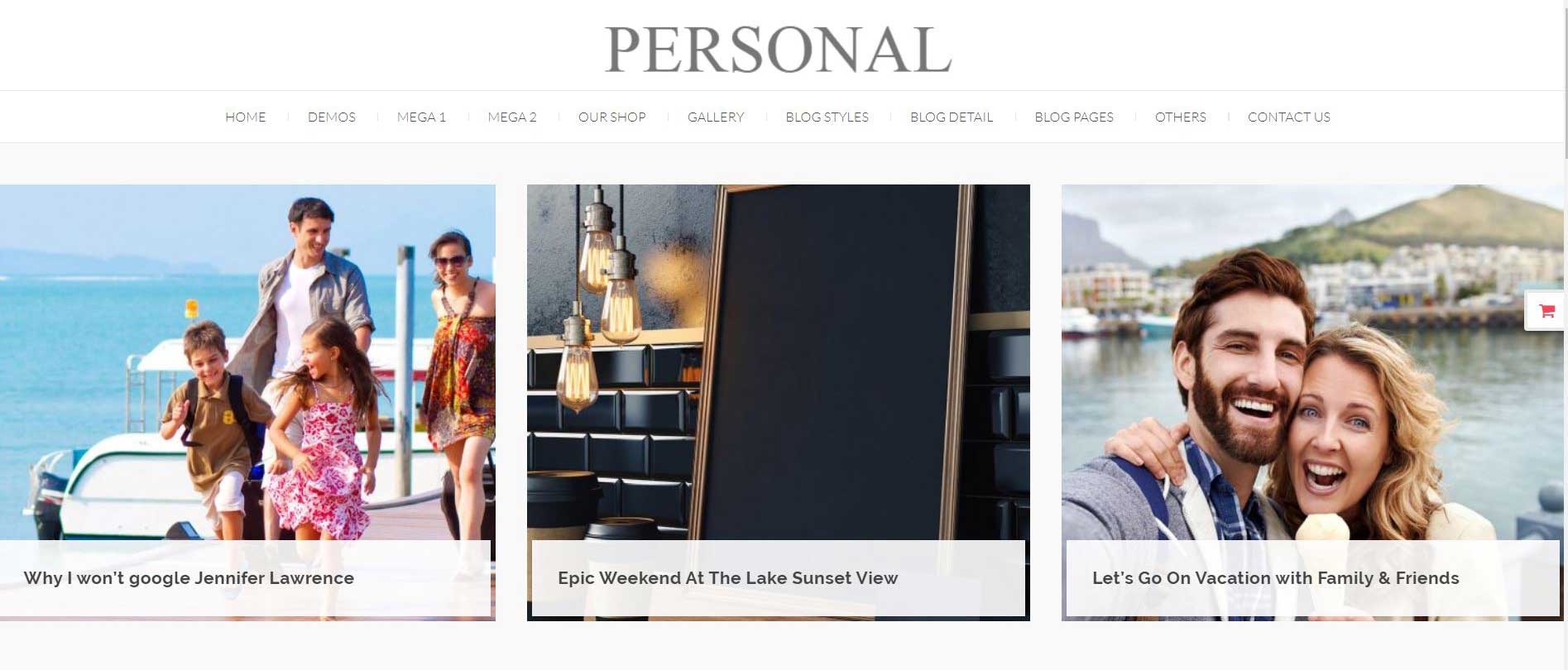 Personal is a blog theme that has amazing reviews and is known to be one of the most unique and attractive themes out there. The functionalities vary from basic to advanced so it is suited to everyone's requirements.
Moreover, Personal blog theme covers all niches of blogs, be it, fashion, travel, food or any other segment, it can cater to each of them effectively with its amazing layout designs and other features.
Main Features:
Filled with layout options
Including videos as part of the blog
Mobile responsive
Translation-ready files
Use of Google AdSense
Unlimited color themes options
Click to Download
Live Preview
59
Wordpress Hosting
5. Adorable – Feminine & Stylish WordPress Theme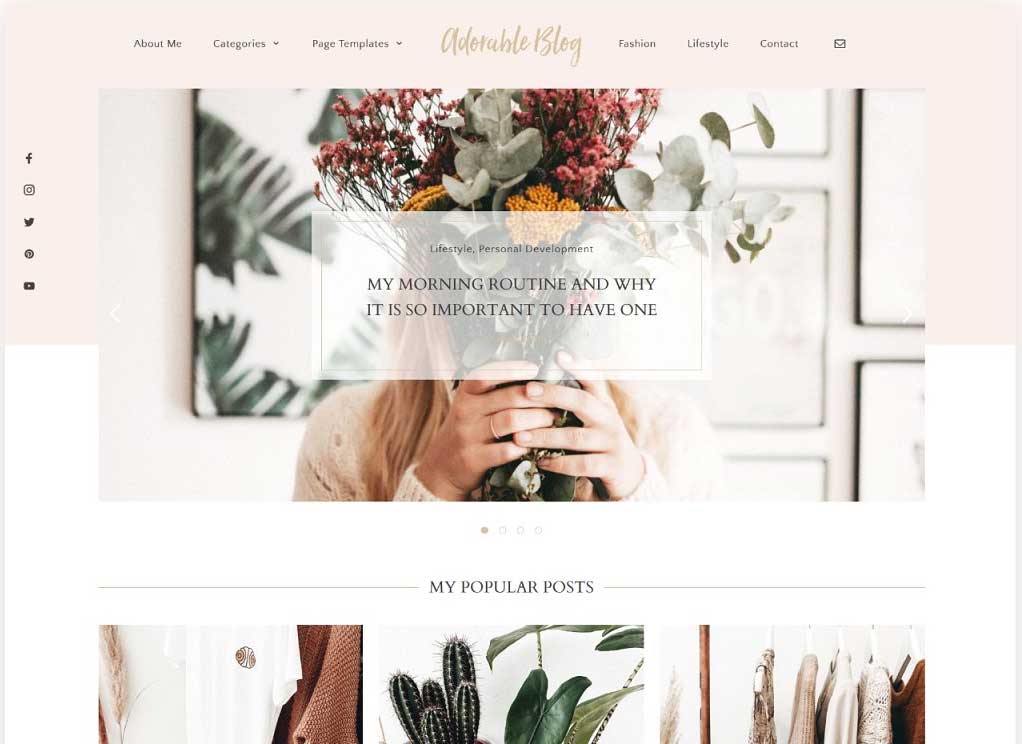 Adorable is a theme that is modern, sophisticated and stylish and makes the perfect option for bloggers (lifestyle or fashion).
It's incredibly easy to use and has a range of subtle colors like grey, white and red which makes it more attractive to most visitors.
Main Features:
Mobile responsive
SEO code
Flexible customizer
Support
Featured slider
Click to Download
Live Preview
Wordpress Hosting
6. Let's Blog WordPress Theme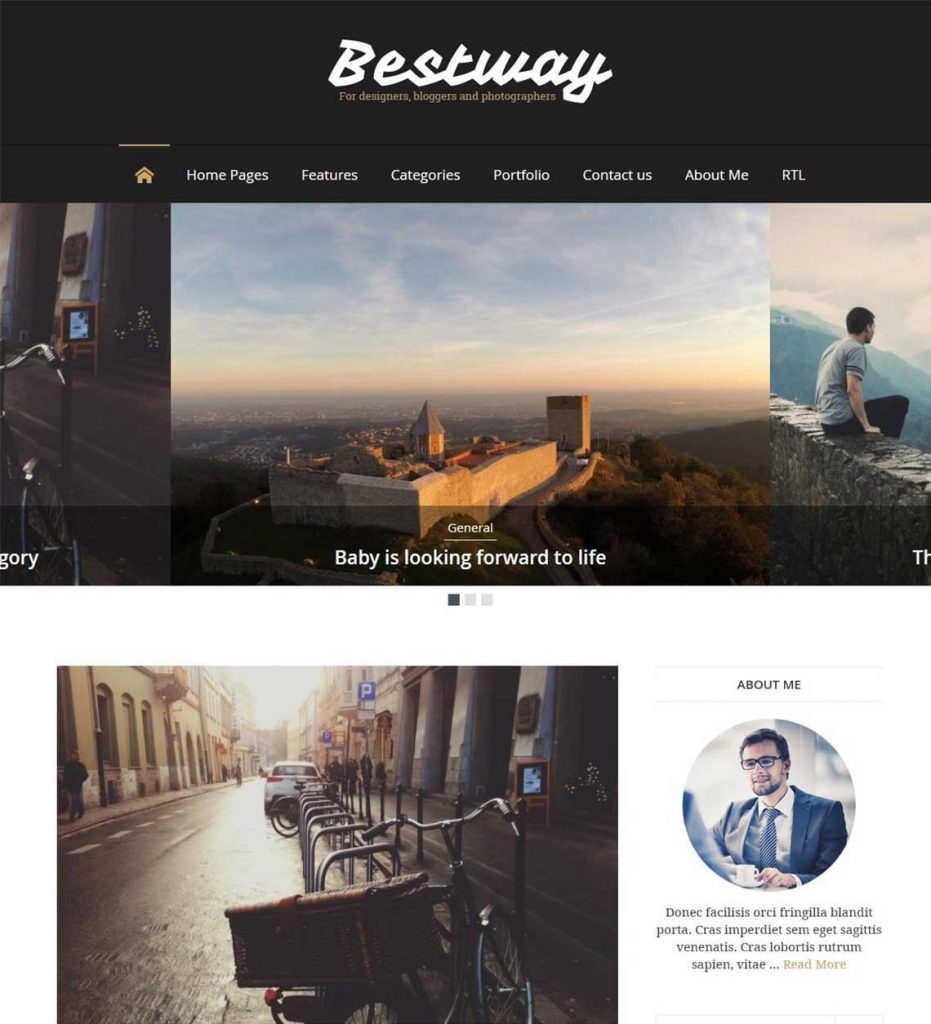 Another really cool blog theme is Best way. It features a smooth and modern interface that is user friendly and simple to use. It is loaded with functionalities that are essential for a good WordPress blog theme. This includes multiple header designs, three layout options and many more
Interestingly, it also has different header and footer layouts with pre-designed demos. This theme is highly responsive and support latest technology as well as unlimited updates.
Key features
Highly responsive and compatible with many browsers
Compatible with many plugins including WooCommerce
Multilanguage and translation ready
Different template pages and custom widgets
Clean and modern interface
Click to Download
Live Preview
49
Wordpress Hosting
7. Aden – A WordPress Blog Theme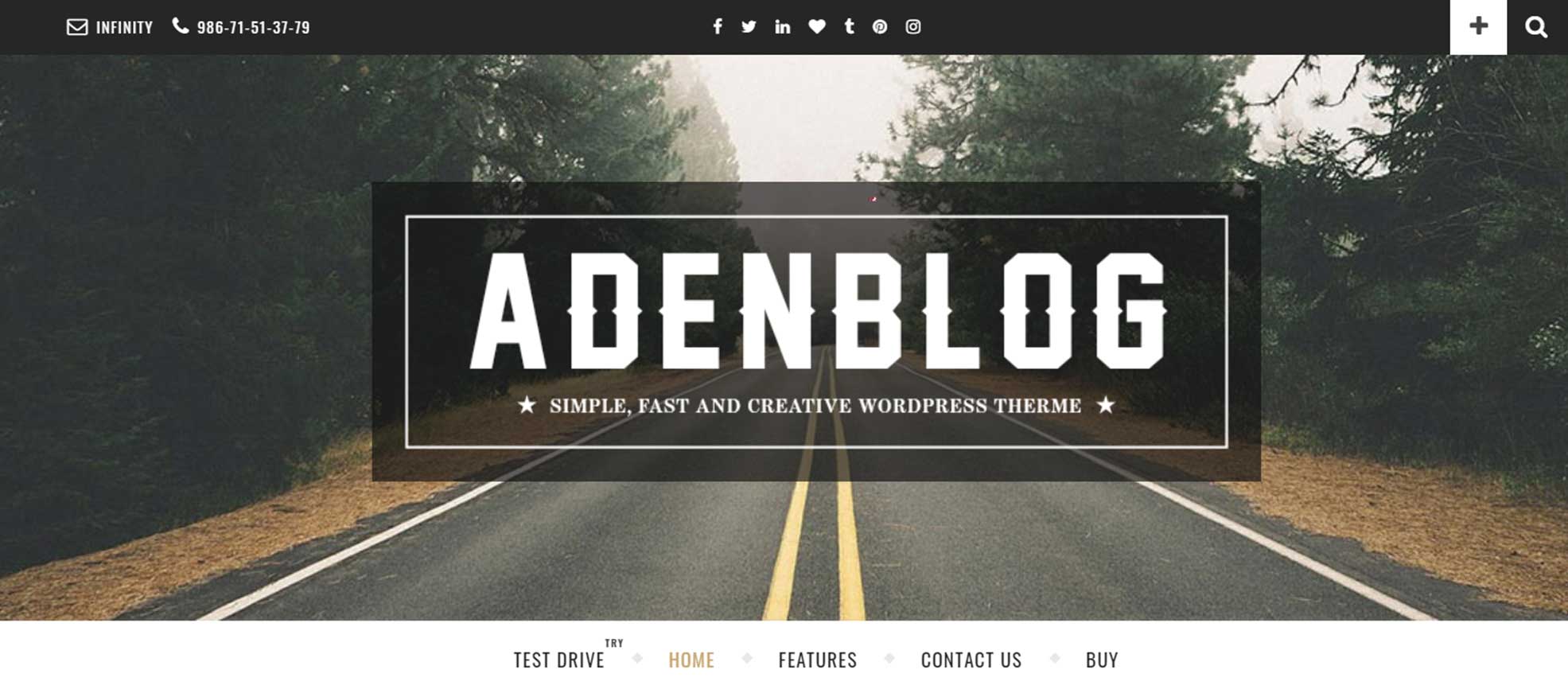 Aden is a WordPress blog theme that is very easy to use, has a clean and modern interface and is perfectly suited to all people – Beginners and advanced users. It has a very attractive look to it which can in turn retain visitor's attention on your post as each post is creatively displayed with a picture making it seem very interesting.
It is an easily customizable theme and you can take the benefit of Live Theme Customizer. With unlimited customization options, this theme is sure to make your blog unique and more engaging.
Main Features:
Mobile responsive
Support and documentation for guide
Unlimited layout designs
Translation ready
SEO optimized
Easy to use
Click to Download
Live Preview
16
Wordpress Hosting
8. Basho – Multipurpose Ghost Blog WordPress Theme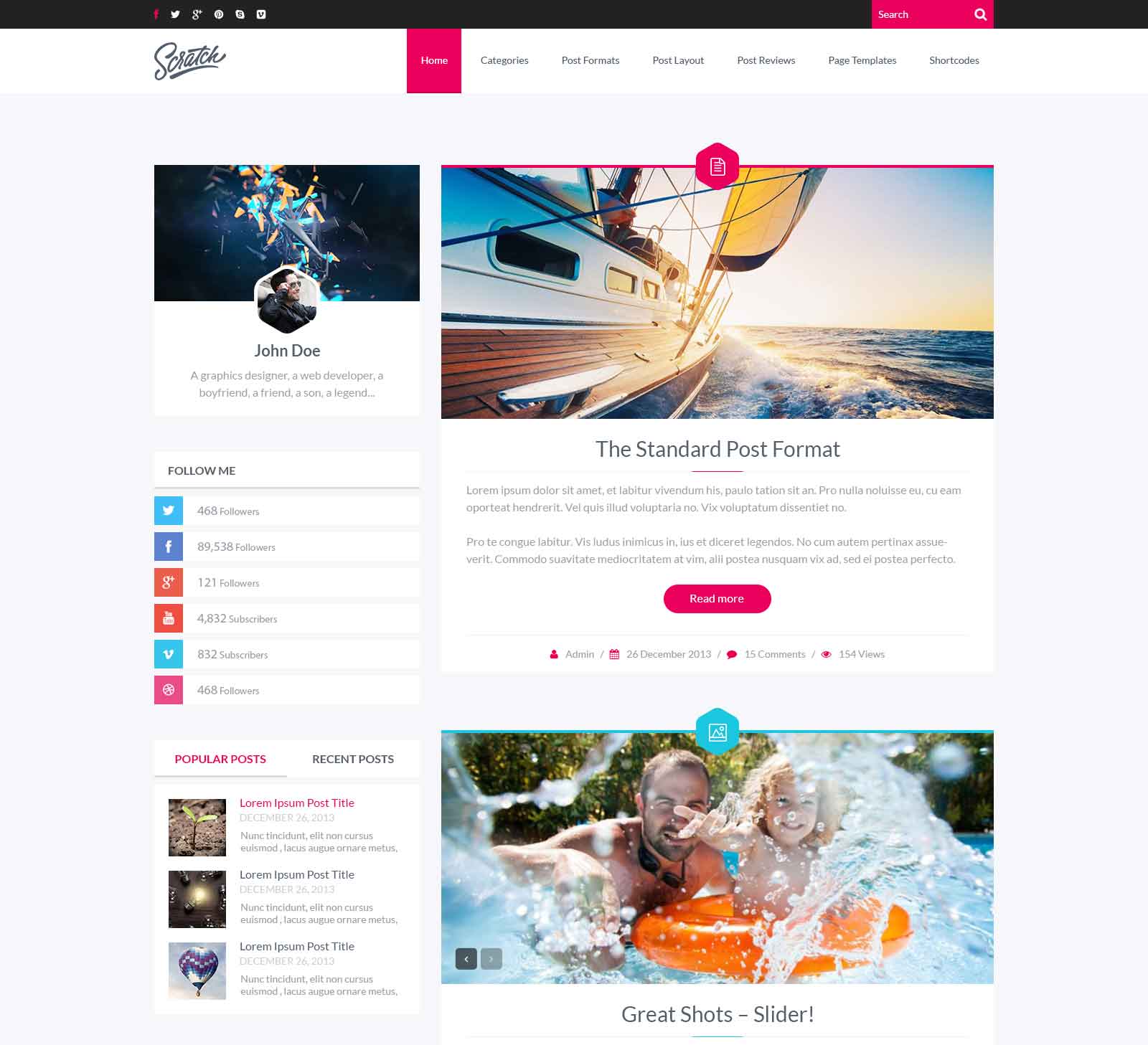 Basho is a premium multipurpose theme that is carefully designed with creative touch of newest technology suited to advanced users more as it has a range of functionalities that can make your website look very exclusive. Moreover, it features a clean and modern design that perfectly fits to all niches including travel, fashion and travel blogs.
There's a lot of flexibility within this theme too. It has light and dark mode feature. This theme is Ghost 5.x ready. It is fully responsive and efficient with translation ready and a lot more incredible features. It is definitely worth the price because of the range of features and benefits it has to offer.
Key features
Highly responsive and efficient
Ghost 5.x ready
Powerful plugins
Light and Dark mode
Fully customized
Creative and modern designs
Blog ready with free Google fonts
Great support and well-documented
Multilanguage and translation ready
Click to Download
Live Preview
79
Wordpress Hosting
9. Rosie – A Beautiful WordPress Blog and Shop Theme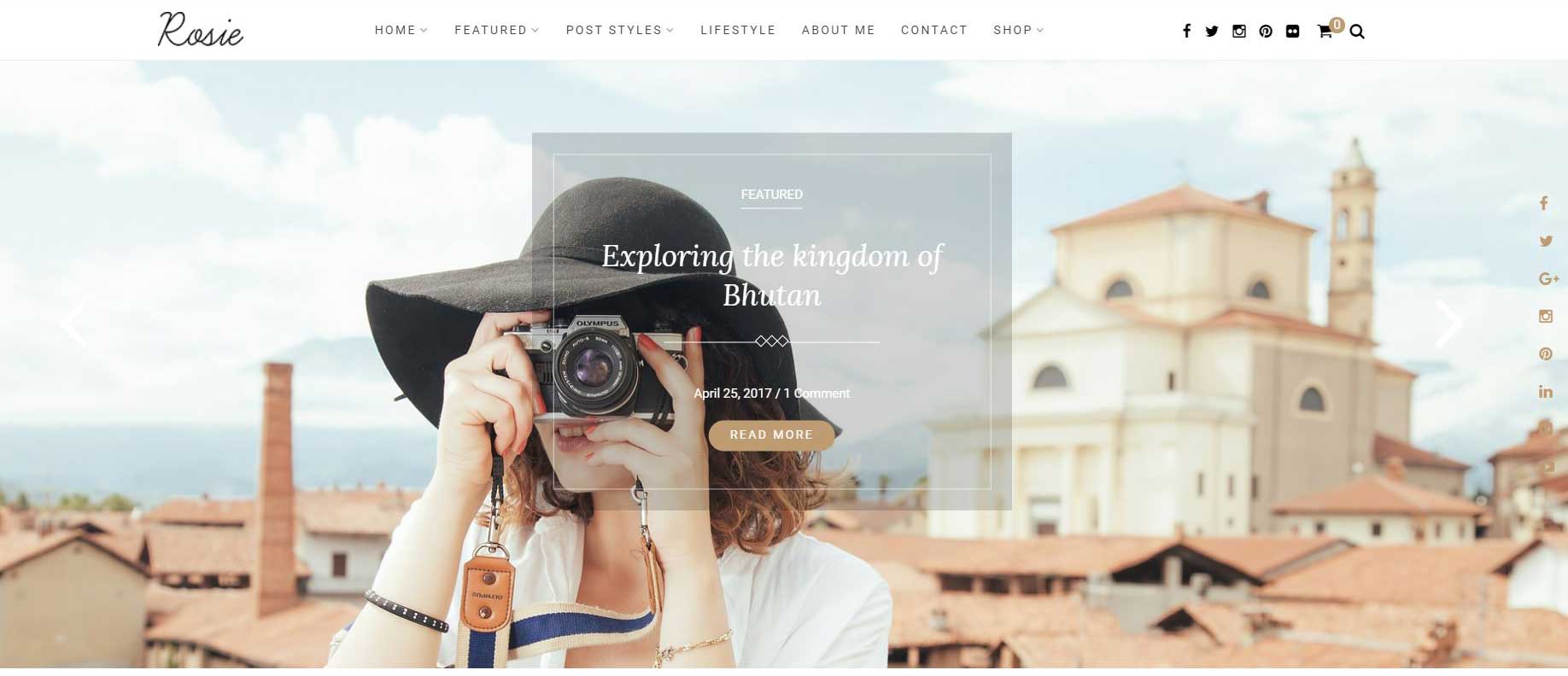 If you're a person who has an innate tendency to appreciate beauty and aesthetics of things, then this is the theme for you. Rosie is a stunning WordPress blog theme that is generally used for shop themes too.
Specifically, this theme would be perfect for travel blogs as the layout and design of this theme is applicable to travelers to write and share their travel experiences to different places. There's an aura of elegance to the theme owing to its amazing typography and well-structured options that you can play around with.
Main Features:
Lightweight and fast
SEO Optimized
Compatible with all browsers and mobile responsive
Featured content area
Easy to install
Elegant and beautiful design
Click to Download
Live Preview
45
Wordpress Hosting
10. Rosemary – A Responsive WordPress Blog Theme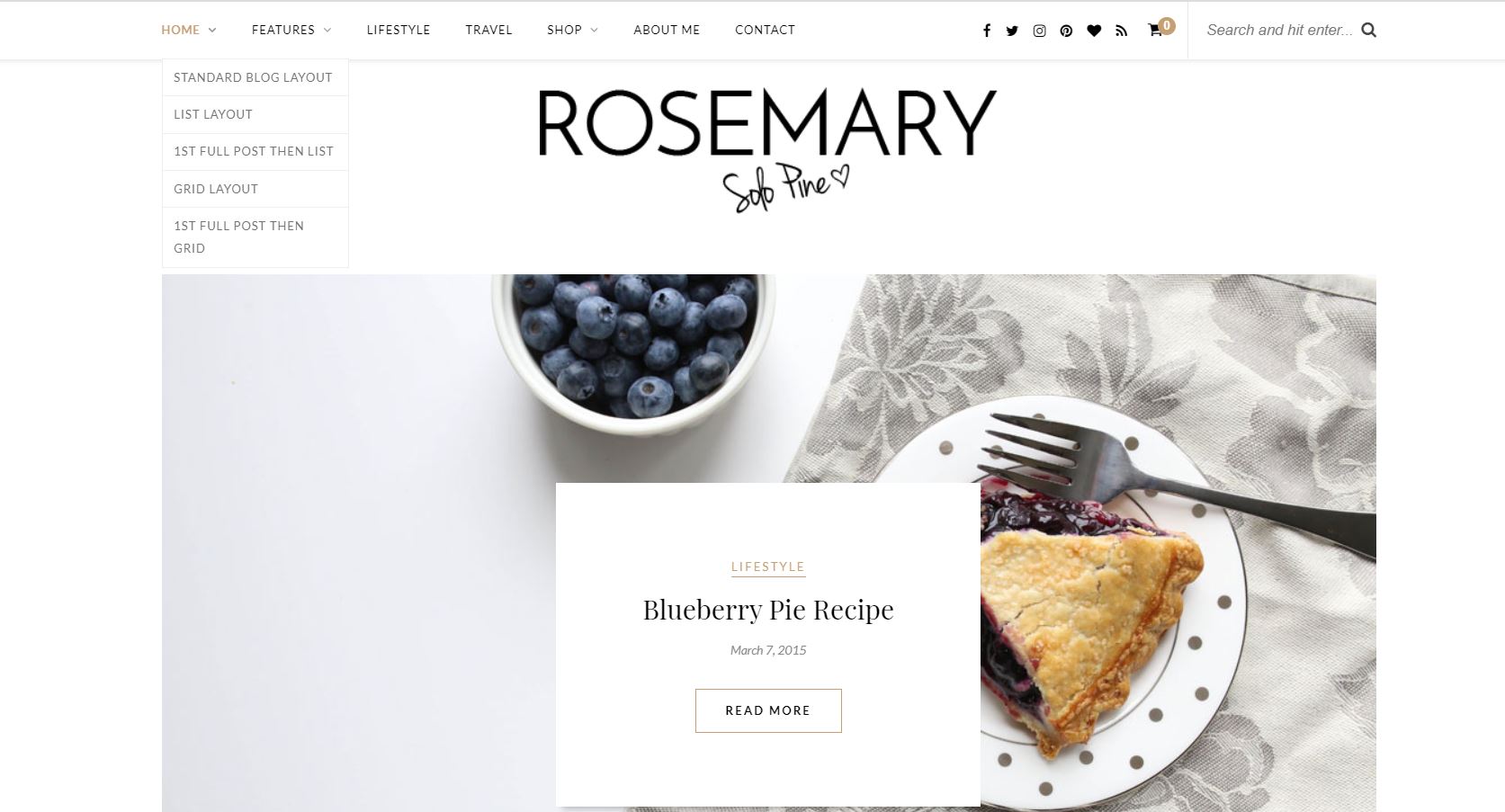 Rosemary is yet another elegant and bright theme that is highly sophisticated making it perfect for art, travel or fashion niches. Rosemary has Instagram footer area where you can show off your personal work or life too, leading to more followers.
Moreover, you can also include other nice widgets as there are plenty. You don't have to stress over formats as the blog incorporates all the necessary ones. The contemporary look of Rosemary is undeniably appealing and is guaranteed to wow people.
Main Features:
Mobile responsive
Lots of color options
Widgets options
Support
Different blog layouts
Translation ready
Different post formats
Click to Download
Live Preview
39
Wordpress Hosting
My Verdict:
Analyzing the above information, our take on this is that the perfect blog theme is essential to the success of your website and that the perfect blog theme always ranges from topic to topic. So, hopefully, this list should assist you in doing that.