Do you want to build a great looking, fully functional website from scratch in 48 hours? Then you need The Online WordPress Course!
Want to create your own blog or an official website? The first thing that would pop into your mind would be the idea of using a CMS where WordPress as an efficient medium to do that. Since you are not the only one who appreciates WordPress as an excellent platform for content creation and management, there are plenty of people who just surf the internet looking for articles and videos that can assist them in using WordPress effectively. While that is not completely wrong, it can be, at times, insufficient.
Consider this example: The way a professional teacher can teach you math, cannot be otherwise, best learned through a YouTube channel. Since the presence of a professional makes it easier for you to have a two-way conversation. And that way, you can address your queries and receive guidance in the form of feedback.
Likewise, that example applies to Courses and Training. WordPress Courses and Training take a more structured approach to making you learn the basics as well as advanced functionalities of WordPress.
We have compiled a list of such courses and training to help you out.
Disclosure: This WordPress Courses page contains affiliate links. When you purchase a course through the links, I sometime earn a commission, at no additional cost to you. Read my full disclosure here.
1. Udemy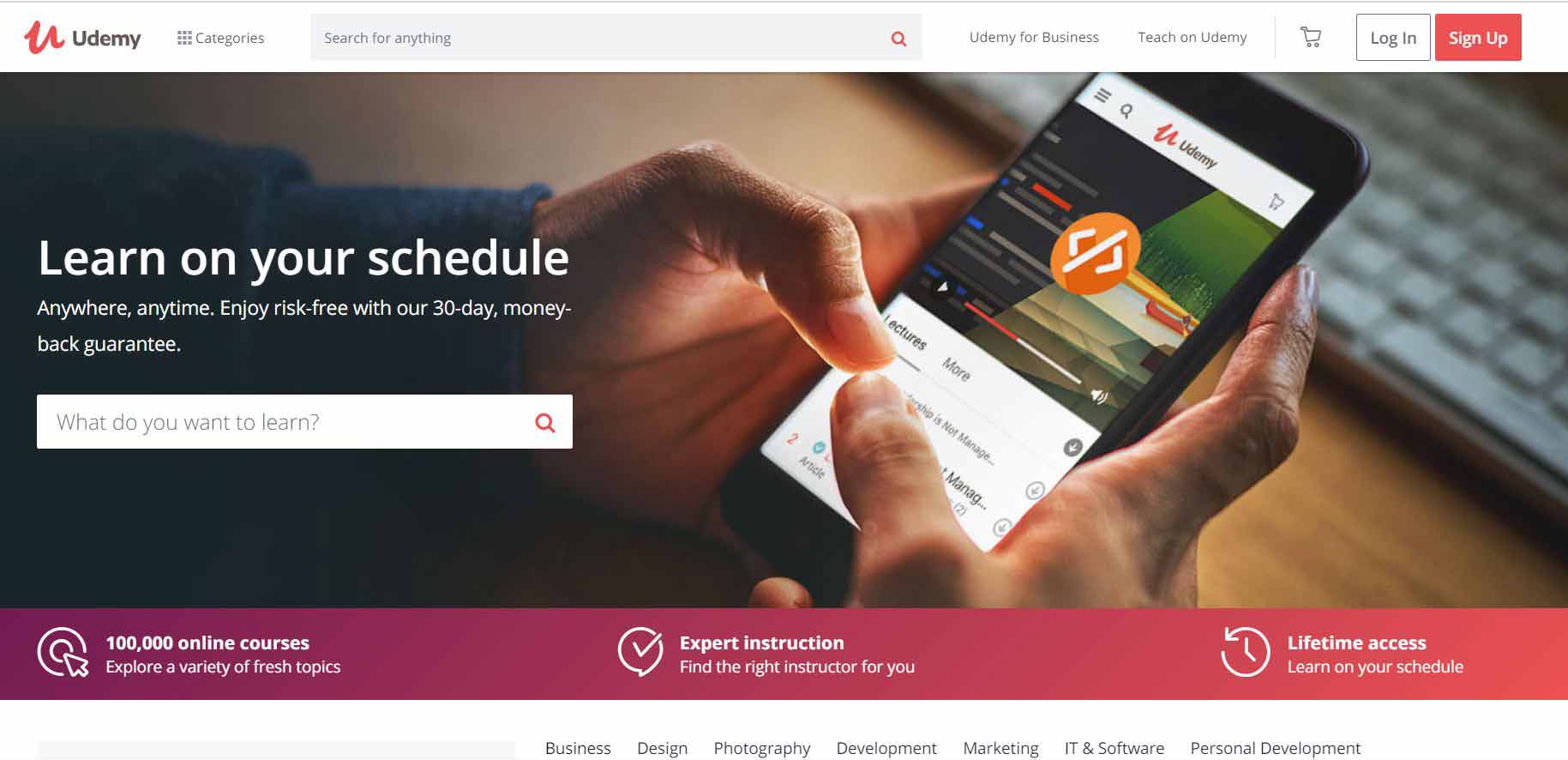 Udemy is a popular and most preferred platform for learning anything and everything. That being said, it's also quite favored when it comes to WordPress courses. It offers a range of courses that are very comprehensive and applicable to beginners as well as advanced users.
Since the complexity of each course varies from easy to the more difficult aspects, it is easier for students to choose according to their own need. The courses on Udemy cover topics such as SEO, website development, de-bugging, custom coding, designing and more… You can also view each courses' ratings and read the reviews before buying it.
Price: Ranging from free to $199.99.
Perks:
Learn from WordPress gurus who have prior in-depth experience
There are lots of videos on each topic for your understanding
Each topic would take just a few hours to be completed
Learn at your own pace – No rushing
A complete guide to website creation through steps that are explained very simply.
Easy to understand and quick learning process
Courses can be evaluated on their effectiveness via ratings and reviews – creates good value of money
2. Fiverr

Another really great platform for you to learn from would be Fiverr. Fiverr is generally known as the marketplace for freelancing services and the website is quite popular as well. However, not many are aware that Fiverr offers courses to be learned by freelancers and other users too. You can look them up on their page which is known as Learn From Fiverr. Interestingly, there are loads of WordPress courses as well in which you can learn from WordPress gurus and top experts.
Most of the courses relating to WordPress include all the important stuff that you should know before you head on to creating a full-fledged website. These include, pages and blog posts, customizing themes, social media integration, plugins and widgets, videos and images and many other kinds of styling techniques. Not just that, but the courses also offer to teach you some useful SEO tips to increase the visibility of your site in Google search.
Price: Between $31 and $78
Perks:
Learn from industry experts, specifically, WordPress experts
Courses can be completed within a few hours
Many videos to illustrate WordPress concepts like website creation, SEO.
Very structured and practical way of teaching – Chapter wise and practical implementation (i.e. launching a website on wordpress.com)
Most courses give you money back guarantee
3. LinkedIn Learning

LinkedIn Learning is an online platform designed to teach various professional skills through a range of instructors. Similar to other platforms, here you'll be able to learn the basics as well as the advanced skills needed to design an excellent website.
You will learn about blog creation, e-commerce websites, SEO and other essential tools required in WordPress that can actually boost your career prospects in terms of diversity. Moreover, the courses are categorized into beginner, intermediate and advanced levels.
Price: Free for one month and then you're billed $29.99 per month.
Perks:
Very convenient
A vast range of content available (about online business websites, SEO, plugins and other essential information relating to WordPress)
Free trial allows you to explore the dynamics
Learn useful skills to build your career (i.e. web design)
Easy to understand and grasp concepts through videos and other methods
4. Yoast Academy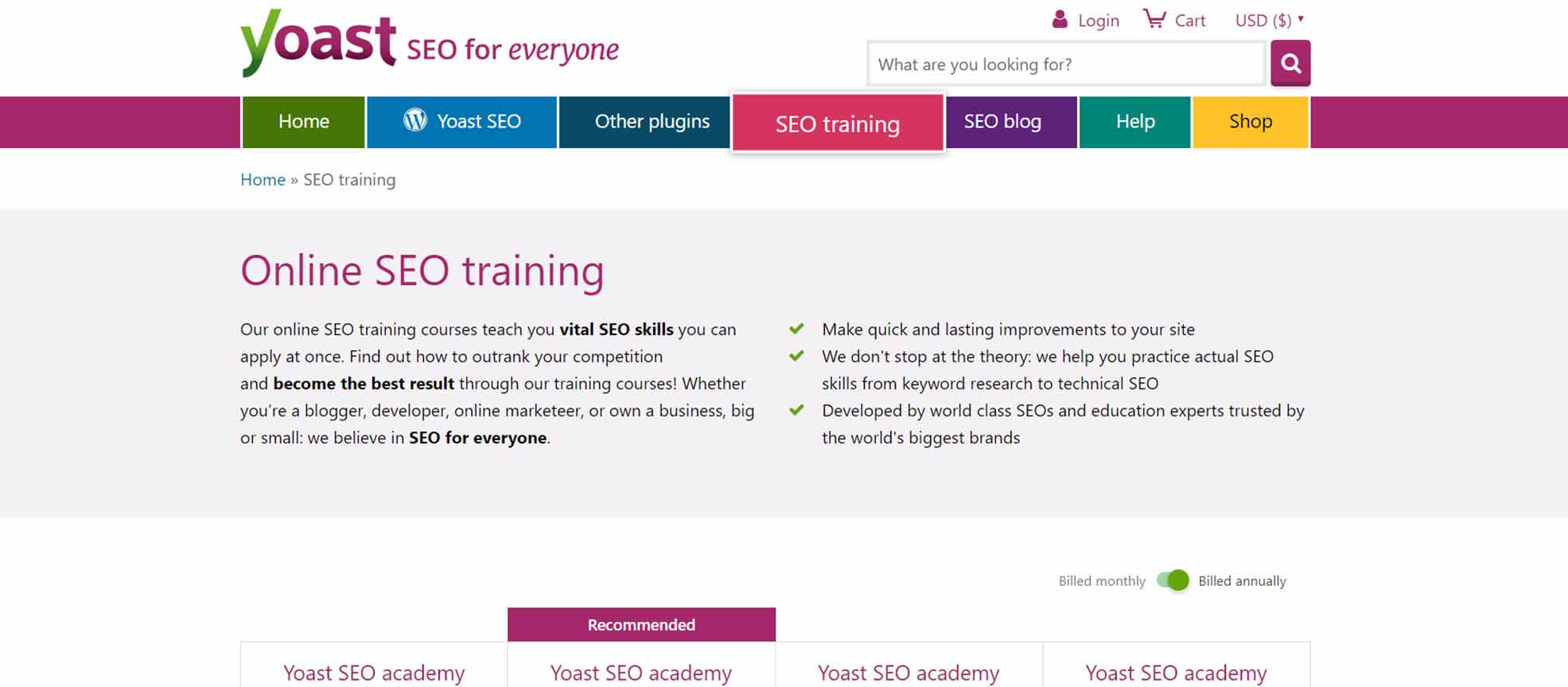 Yoast is an SEO training website that also offers courses relating to WordPress. These courses give a person basic knowledge as to how to start one's own website. This basic knowledge is covered via 4 free courses in which you'll get to learn about the installation, security and themes/ plugins.
Another great thing about it is that there's another free course on WordPress SEO for beginners in which you'll get to know how to start ranking in google search results which is very useful. Apart from these, there are premium courses in which exclusive tips and knowledge is shared.
Price: Free beginner courses, All-around SEO training for $199 per year and Yoast training subscription for $499 per year.
Perks:
Highly reliable means of learning
Some videos are free through which you can learn the basics
Upgradation to premium courses will help you learn exclusive SEO skills
You get a certificate upon completion of courses
Quick learning
5. BitDegree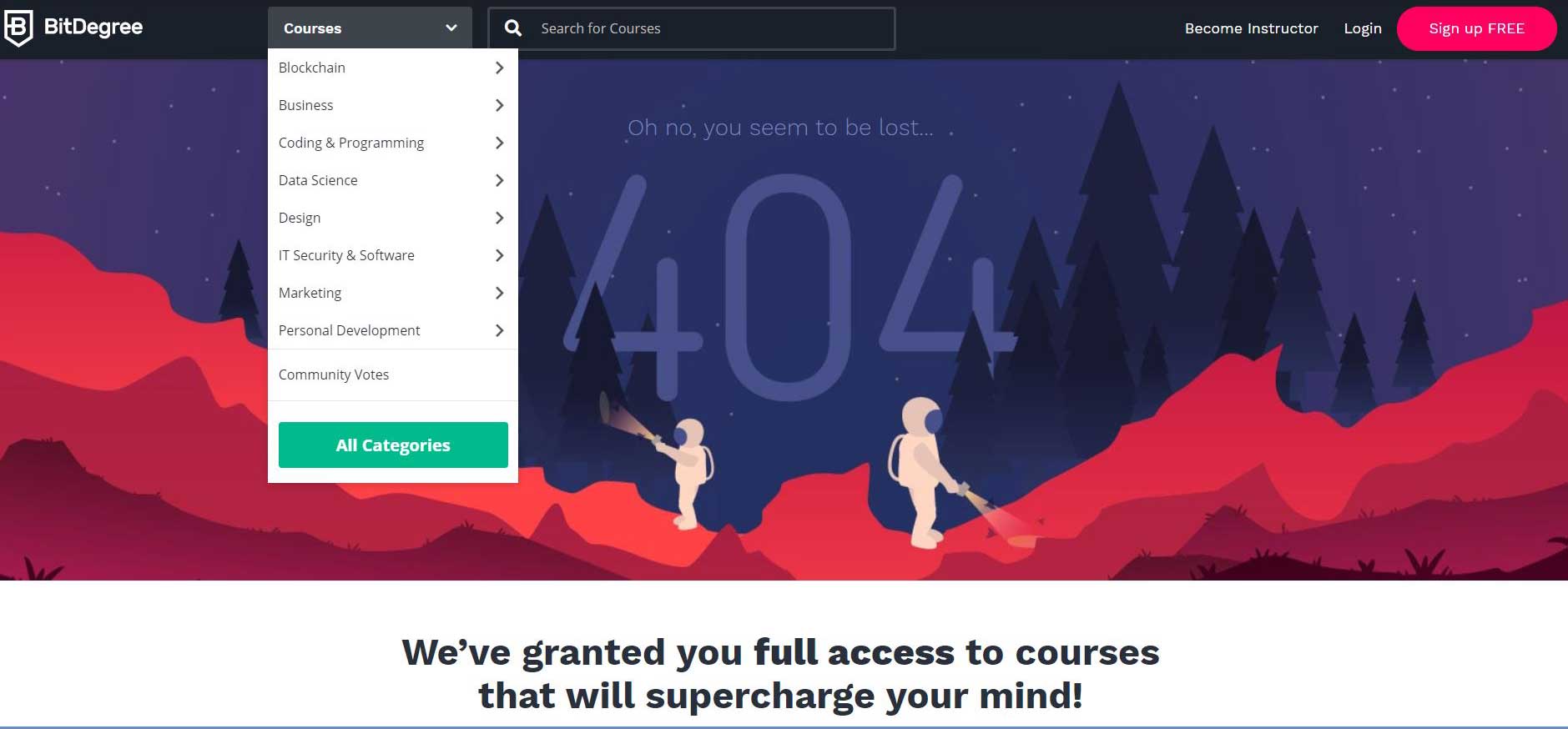 BitDegree is a versatile platform where you can explore a wide variety of options available for you to learn WordPress from. This is where you can either get a very basic course as well as an advanced course at a reasonable price along with short duration (though this may be variable). All that is required for you to learn from this platform is internet access. Thereon, you can learn all about WordPress from scratch.
Price: Some courses are free, but some can be up to $100.
Perks:
Quick learning through short duration of some courses
Visual learning through videos which can be very effective
In some courses, you can learn how to create a website in just one day
Good value of money
Suitable for all types of students (beginners as well as those who want to learn advanced skills)
6. Teamtreehouse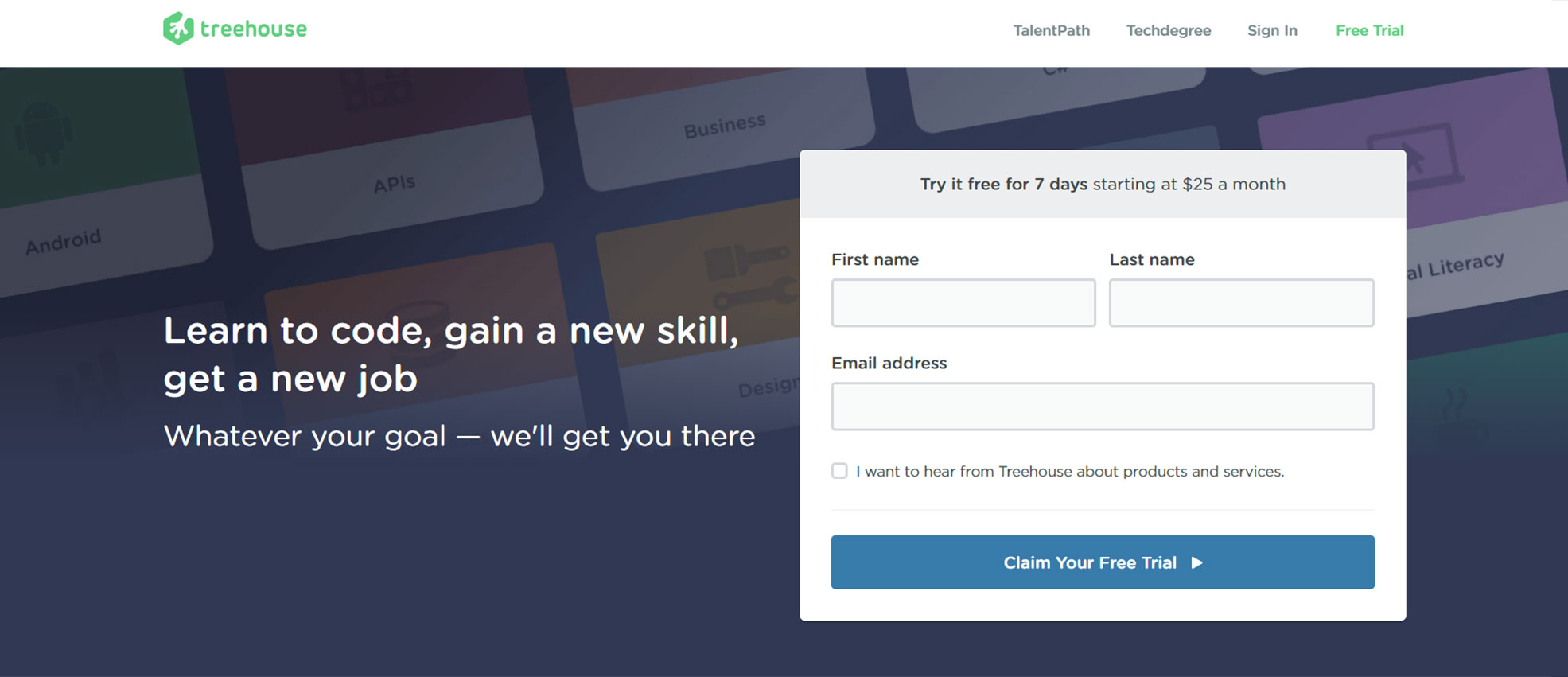 Popularly known well in the discipline of web design, Teamtreehouse is an online platform for learning various skills ranging from basic to advanced which can benefit many users who want to learn more about WordPress.
Importantly, the concepts are taught by professional teachers who are highly reliable. You can pause in between the duration of 3 hours which makes it easier to learn and grasp the knowledge.
Price: Free for 7 days, after that you will have to pay $25 per month.
Perks:
Incredibly easy to learn from – step by step instructions given to understand WordPress
Short duration – Quick learning
Reliable as it is taught by a team of WordPress experts
The trial period will allow you to discover various elements about WordPress
Highly structured way of teaching that is easy to keep up with as there is a lot to learn about WordPress, so you won't feel disoriented
7. Reed.co.uk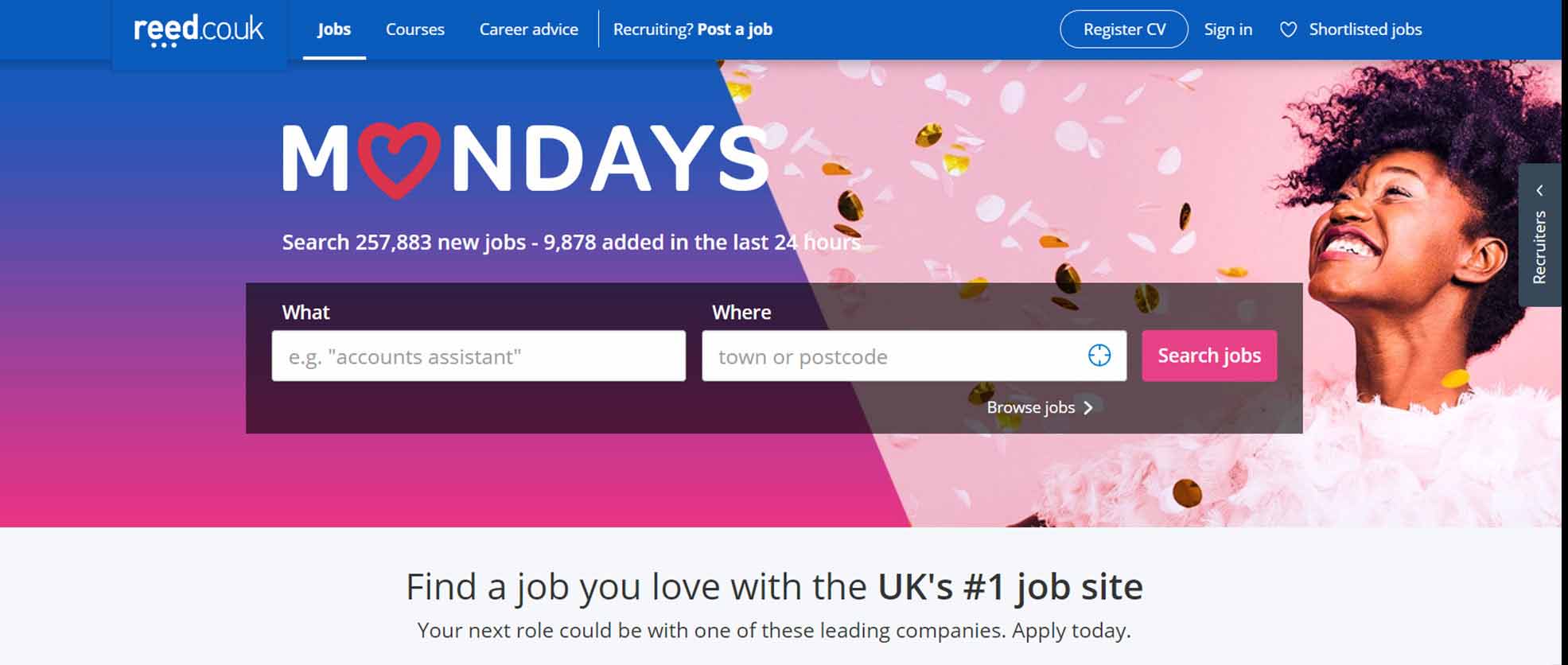 Reed is an employment website where many people try to find jobs and employers try to look for potential employees. The website also happens to offer courses to the people who want to register for them. It not only offers courses for beginners when it comes to WordPress, but also offers a diploma in WordPress worth $300.
It's a content loaded website where you can learn a lot of skills about WordPress including SEO, content marketing, plugins and various others that can help you create an excellent website of your own or even a blog.
Price: From £10 to £3900
Perks:
The duration is variable for each course so it offers you flexibility in that sense
Some courses give you a certificate upon completion
Some courses provide tutor help which is essential when it comes to learning about WordPress concepts
Some courses are in classrooms and some can be online
Effective learning as some courses have exams included so you can evaluate your own web design skills
Wide variety of courses (SEO, rankings, essentials, parallax slider design, WooCommerce, etc.)
8. Skillshare

An American website that is purely based on teaching through educational videos, Skillshare consists of a lot of videos that are based on WordPress concepts. It is one of the highly favored websites by students. These concepts include basic step by step instructions relating to WordPress along with whole videos on WordPress plugins like Elementor and WooCommerce.
Interestingly, this website is very useful for learning about WordPress as it also includes comprehensive videos about Google AdSense relating to WordPress which can help you learn how to monetize your blog or website.
Price: Free and Premium (which costs $15 per month and $99 per year).
Perks:
Videos about general aspects of WordPress (step by step guide) and specific aspects (i.e. how to create a front page, customizing WordPress theme with HTML and CSS)
Very flexible and convenient as you can learn about WordPress in just one day (hours may vary according to your own preference of videos)
You get to have 2 months free for premium videos so you can explore and take advantage of that
Some courses require you to finish a project (i.e. creating front page using WordPress) which can be very helpful
Very easy to understand and comprehendible as everything is taught via videos.
9. Simplilearn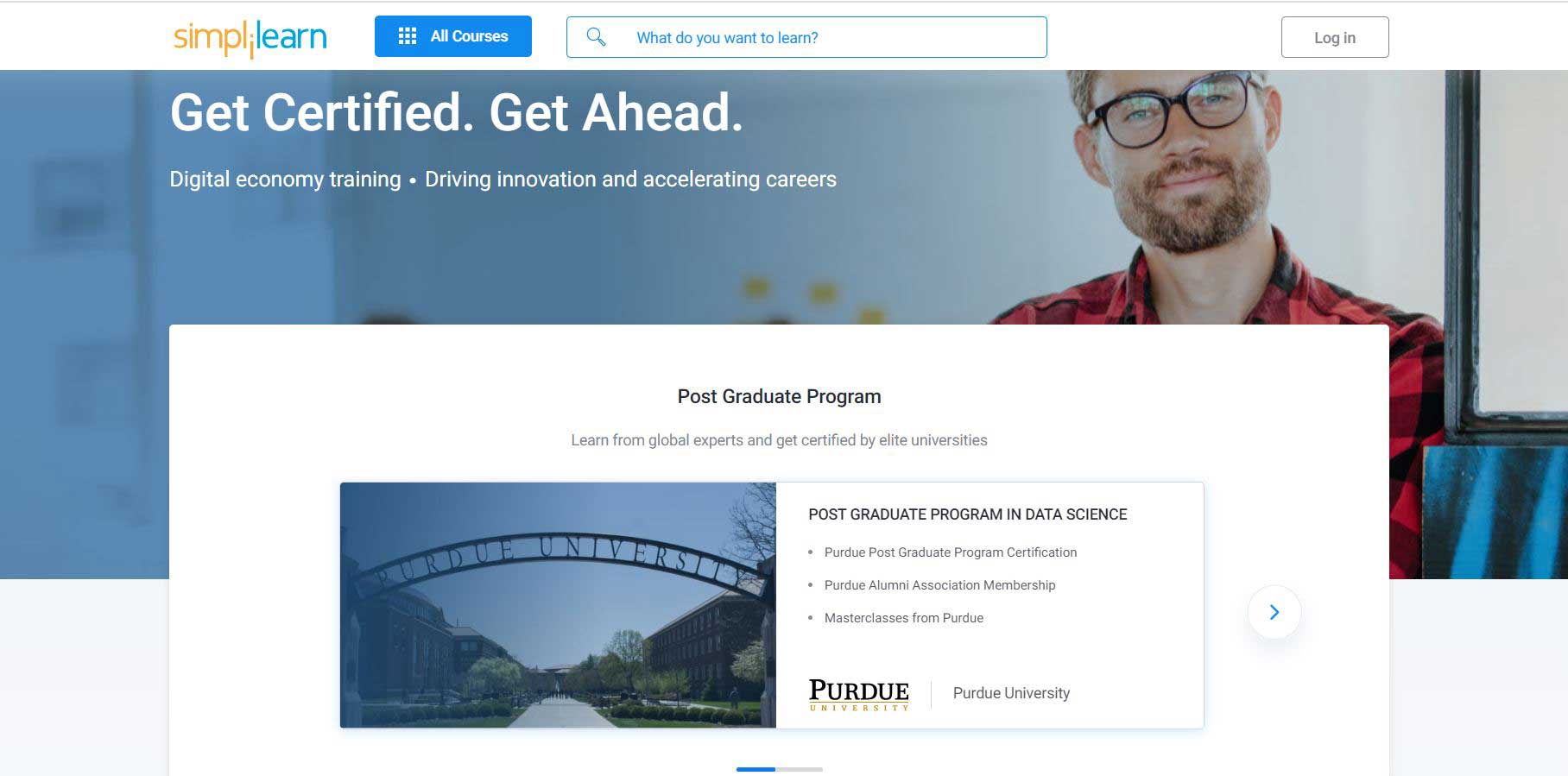 Simplilearn is a website that offers certificate courses to people so that their career prospects may boost. These courses either up-skill or re-skill according to a person's needs. Proven to have actually boosted people's career life, it also claims to make you learn through an applied and engaging approach to learning. This can be especially beneficial when it comes to WordPress.
It offers a variety of courses including SEO, WordPress Training, essentials and how to get started. All of these may last for about an hour or so, though the timings may vary. It teaches you the specifics like tags and social media sharing too, so it's a pretty useful platform to get started with.
Price: From $20 to $399
Perks:
Some courses offer a certificate upon completion
Very reliable as industry (WordPress) experts have designed the courses, so the content is thorough
It also has courses that teaches you about the plugin development as well as feed which is essential if you want your website to get running quickly
Most of the courses finish in a few hours
After finishing the courses, you'll have sound knowledge about optimizing blog posts as well as customizing WordPress themes and pages
Hassle-free learning, you only need internet access
10. Coursera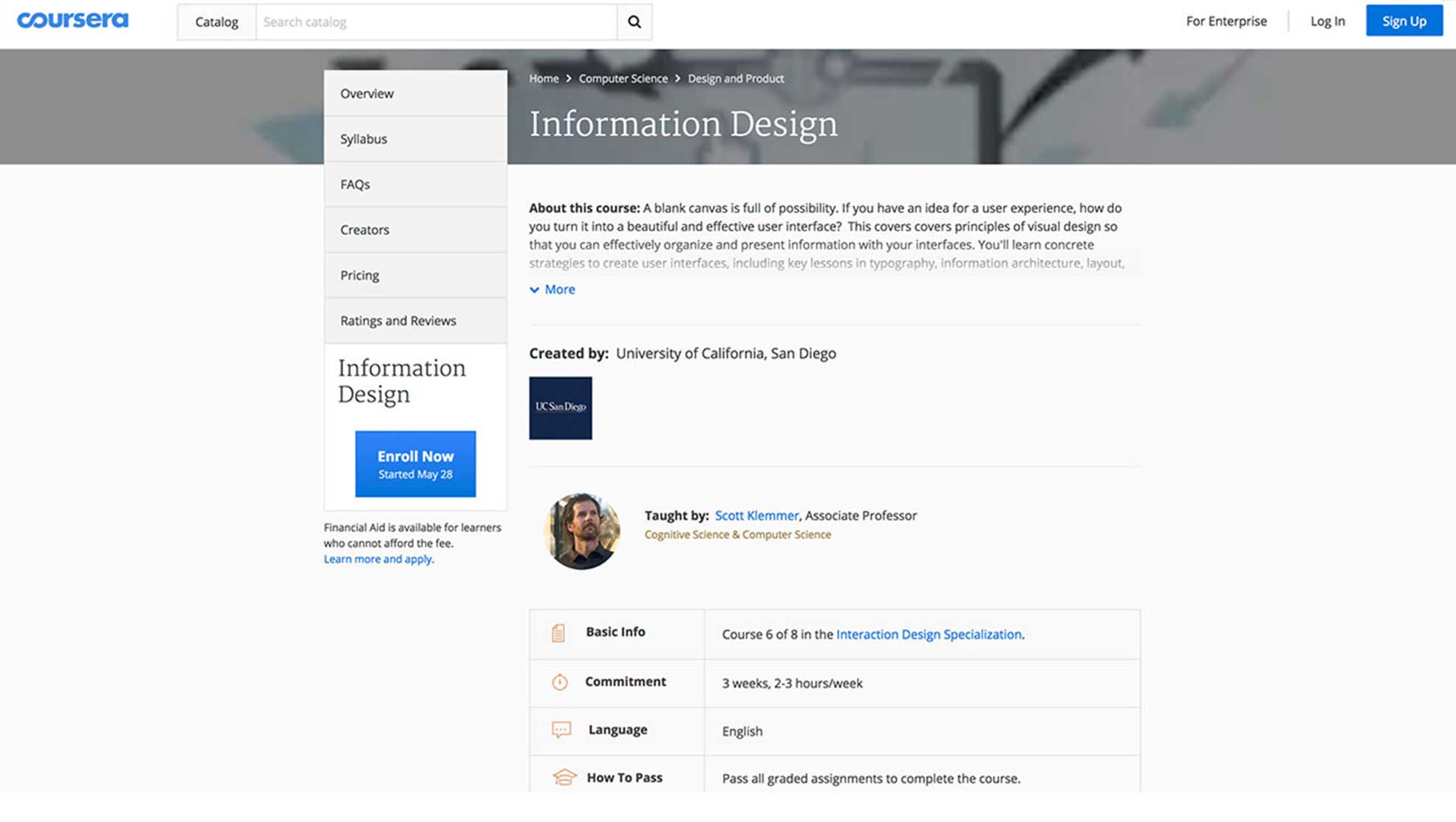 A very well-known online platform for learning different concepts. It not only offers short courses and certifications, but also offers degrees at a professional level from top-notch universities.
There is wide variety of courses available for you to learn about WordPress. There's nothing you won't find here. From creating a website (project-oriented courses) to web design, Coursera has it all covered for you.
Price: Free and Subscription basis between US$39-79 per month.
Perks:
Taught in different languages
Online learning – you can reschedule the deadlines and lectures whenever you want
Some courses offer weekly modules in which they teach you about WordPress from scratch (prepping website, choosing themes, adding media and then customizing further) which is very useful for beginners
There are readings as well as quizzes at the end of each module which enhances learning
We covered some basic questions about WordPress courses!
Do these courses provide basic knowledge of WordPress?
Do these courses provide basic knowledge of WordPress?
These courses provide an in-depth insight into the world of WordPress. Most of them start from scratch and then head on to the advanced details like custom coding, integration, etc.
What are the prerequisites of taking these courses?
What are the prerequisites of taking these courses?
None for most courses, though you have to ensure good internet access. However, some courses based solely on one concept like SEO may require you to have a know-how of WordPress.
Which courses are better for me? Basic or advanced?
Which courses are better for me? Basic or advanced?
If you have sufficient knowledge about website creation, integration, RSS, shops, themes, plugins and other elements then you should opt for the advanced courses. As all the essential information relating to creating a website is covered in the basic courses very thoroughly.
Can I use my iPad or tablet to learn the course?
Can I use my iPad or tablet to learn the course?
Though you can use that, it is not usually recommended to do so. Many students end up losing focus. Therefore, you should use your work station for learning.
If I have registered for a course, can I get a refund?
If I have registered for a course, can I get a refund?
It varies from company to company and courses to courses. However, it is possible to get a refund.
Is coding or programming knowledge required to learn the basics of WordPress?
Is coding or programming knowledge required to learn the basics of WordPress?
No. However, it would be great if you have basic HTML and CSS know-how
Are all the classes conducted online?
Are all the classes conducted online?
Most of them are, however some of them require you to sit in a classroom.
Are all the classes pre-scheduled?
Are all the classes pre-scheduled?
Most of them are not. You can keep up with the class work according to your own schedule.